01.03.2021
The 3 Keys to Customer Satisfaction
The Harvard Business Review recently said that, "Companies that aim for 'zero defections' (keeping every customer they can profitably serve) make profits rise." On average it costs manufacturers 6-7 times more to acquire a new customer than retain an old one, and 5% reduction in the customer defection can increase profits by up to 95%. Improved customer satisfaction is paramount to reducing customer defection, and by listening to the reasons why customers defect, managers know exactly where the company is falling short. Below are 3 keys which if appropriately utilized, can increase customer satisfaction.
#1 Quality
A survey conducted by Ray Products, which ranked the importance of 11 attributes customers used in deciding on a manufacturer, concluded that overall, customers consider quality to be the most important factor. Quality is seen as the overall value of the product supplied to the customer based on whether or not the order is damaged or defective upon delivery. If either condition exists, the order is considered to have a quality problem, which should be immediately addressed.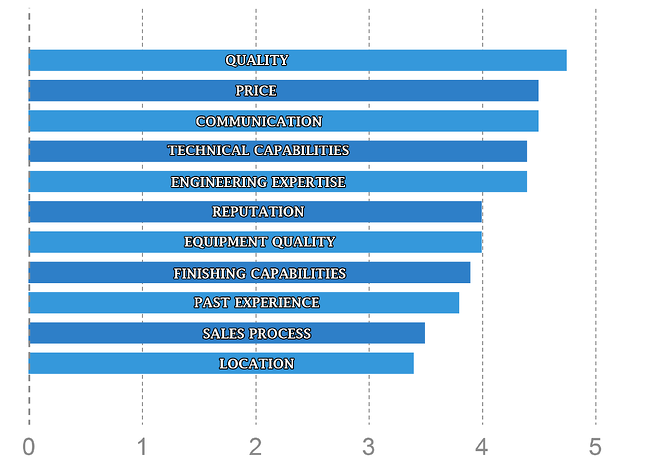 #2 On Time Delivery (OTD)
On-Time Delivery shows the ability of the organization to meet customer expectations with respect to the time it takes to satisfy a specific order or service request. Customers require dependable on-time delivery from their suppliers, and both early and late deliveries can be disruptive for the supply chain. Diva-Portal's survey on delivery performance and customer satisfaction found that 97% of customers felt that on-time delivery was important or very important to their overall satisfaction.
#3 Responsiveness
Responsiveness is defined as all activities directly involved with completing and providing visibility of a specific customer order or service. Effective customer responsiveness is achieved through completion of customer requested tasks such as quoting, change orders, and production status updates. Creating a team which tends to a customer's needs and addresses all inquiries in a timely manner is your best bet in maximizing responsiveness.
McKinsey & Company recently found that 70% of a customer's experience is based on how they feel they are being treated by the manufacturer. Additionally, Defaqto research stated that 55% of their customers would pay extra to guarantee better responsiveness from their manufacturer.
A Quality Management System (QMS) focused on achieving your customer satisfaction objectives which calculates results in real time, will go a long way in achieving a zero defection rate. Through this QMS, you can monitor your OTD, quality, and responsiveness, and work towards a zero customer defection rate.
This post originally appeared on the DigiSource Blog